Daring Fireball: Tweetbot For Mac
Posted : admin On

02.11.2019
Daring Fireball: Tweetbot For Mac
Average ratng: 9,4/10

5326

reviews
My thanks to iFixit for sponsoring this week at Daring Fireball. You probably know them best for their detailed teardowns of new gadgets, but they also have an extensive library of over 40,000 free repair guides. And they sell precision tools and parts. I've had a set of their tools for years, and they just sent me their latest flagship kit, the Pro Tech.
Twitter for Mac is dead. Starved to death, really. John Gruber of Daring Fireball and some surprise guests join in for a post-mortem on what happened, what went wrong, and where the Mac. Aug 16, 2018 - My strong preference for Tweetbot, on both iOS and Mac, is simple: I prefer its. No longer even fucking has a first-party native app for the Mac.
It's loaded with every rare bit and opening tool you could think of, packed in a clever small case, and backed by a lifetime guarantee. IFixit's repair engineers design these tools in-house, and they're the tools they themselves use. Since last they sponsored DF they've developed a bunch of all-in-one repair kits for upgrading and repairing Apple devices. Their kits include a new part and all the tools you need for the job.
Their toolkits are great for any tinkerer on your holiday gift list. They've even got a special deal for DF readers — through the end of December, save $10 off your next $50 purchase with the code DARINGFIX.
Adam Nagourney, The New York Times: Mr. Bush was president during a shift in the world order that had begun under Reagan. His measured response to upheaval in Eastern Europe drew complaints that he was not seizing the reins of history. But he chose a collaborative approach, working with the Soviet leader Mikhail S. Gorbachev to allow for the reunification of Germany, the dissolution of the Soviet Union and the end of the Cold War.
The two leaders signed treaties mandating historic reductions in their countries' nuclear and chemical weapons. Bush was the best one-term president the country has ever had, and one of the most underrated presidents of all time," James A. Baker III, the former secretary of state and Mr. Bush's closest adviser for nearly 50 years, said in an interview in 2013.
App auf app herunterladen for mac. Blackboard cannot guarantee that the content created by instructors or other users will be compatible with this app.
"I think history is going to treat him very well." By far and away — I mean it's not even close — my favorite Republican president since Eisenhower. I respect him deeply: from his lifelong commitment to public service, to his genuine bipartisanship. The collapse of the Soviet Union could have gone very, very wrong under less steady U.S. And at a personal level, George and Barbara Bush were married for 73 years. There is a rule that will never be written but can clearly be felt that a president can only be eulogized by another president, and that job clearly falls to George W. That's a hell of a thing, but he's going to nail it. Friday, 30 November 2018 I don't recommend games often because I don't often find games I enjoy, but here's one I like a lot.
Super minimalistic both in gameplay and visual style, but that's what I tend to like on iOS. What graphics there are are animated joyfully. It works really well on iPad too. Free to play, a mere $2 to remove ads. One gripe: there's no syncing between devices.
Seems to me the level you're on ought to sync through iCloud. Another gripe: if you lose by a single point, the game gives you an option to replay the final point if you watch an ad for another game. This feels cheap, both commercially and sportsmanship-wise. When you lose you lose, I say. One tip: keep your eyes on the table, not your avatar, because sometimes you need to hit Left when the ball is coming to your avatar's right, or vice versa, and I find it easier to avoid getting mixed up by concentrating only on the table. (, which, I shit you not, you can only read from iOS device because there's no fallback to a web page.) Still no first-party cases for the iPhone XR though.
That's just baffling to me. I know most iPhone owners buy third-party cases, but it seems like Apple is leaving money on the table by not offering their own.
Also, this new "" is more blue than green, right? That's what my eyes and my MacBook's color picker say.
Amie Tsang and Adam Satariano, reporting for The New York Times: The Marriott International hotel chain said on Friday that the database of its Starwood reservation system had been hacked and that the personal details of up to 500 million guests going as far back as 2014 had been compromised. The hotel group, which runs more than 6,700 properties around the world, was informed in September about an attempt to access the database, and an investigation this month revealed that unauthorized access had been made on or before Sept. 10, Marriott said in a statement. The hotel chain said that personal details including names, addresses, dates of birth, passport numbers, email addresses and phone numbers for hundreds of millions of guests may have been compromised.
Hackers also obtained encrypted credit-card information for some customers, but it was unclear if the hackers would be able to use those payment details. Just awful, particularly the part about passport numbers, dates of birth, and the possibility of credit card numbers being exposed. I'm almost certainly included in this breach — I'm a longtime SPG rewards member, and definitely stayed at a few Starwoods hotels since 2014. Raymond Wong, writing at Mashable: Where the Pixel Slate stumbles the most is software polish. It doesn't seem finished and I experienced quite a few bugs and crashes that brought Chrome OS and Android apps to their knees. My review unit's kitted out with a very capable Intel Core i5 processor and 8GB of RAM.
But even so, little things like seeing jitters when scrolling on some of Mashable's media-heavy reviews (like the iPhone XS and Pixel 3), or the slight lag when opening the recent apps window, or the inconsistencies of the colors of videos displayed in the Netflix Android app versus the Netflix website (colors looked way more faded in the app) were frustrating. Getting colors right is just table stakes. Google, Microsoft, and Apple are all trying to crack the same nut: to make a device that can work well both as a handheld tablet and as a notebook docked to a keyboard. It really comes down to the operating systems.
IPad is a tablet first, and trying to evolve into an ever-better notebook. Chrome and Windows are designed for traditional notebooks, and are trying to evolve into ever-better systems for tablet.
Where you start matters. Amazon's Day One blog: Apple Music subscribers will be able to enjoy Apple Music's 50 million songs on Echo devices. Customers will be able to ask Alexa to play their favorite songs, artists, and albums — or any of the playlists made by Apple Music's editors from around the world, covering many activities and moods.
Customers will also be able to ask Alexa to stream expert-made radio stations centered on popular genres like Hip-Hop, decades like the 80s, and even music from around the world, like K-Pop. Just ask Alexa to play Beats 1 to hear Apple Music's global livestream including in-depth artist interviews — all completely ad-free. Simply enable the Apple Music skill in the Alexa app and link your account to start listening.
It's still an open question whether Apple sees subscription content (mostly music now, with more original shows and movies coming soon) as something for its own devices, or cross-platform. Making Apple Music available to Echo devices sure sounds more like the latter.
I wonder how well Apple Music is doing on Android? Thursday, 29 November 2018 Alex Cranz, writing for Gizmodo: So would I recommend it over the iPad Pro? To a lot of people yes! Especially if you're considering buying the iPad Pro, which starts at $800 for an 11-inch model and $1,000 for a 12.9-inch device. The Pixel Slate starts at $600 and moves between laptop and tablet mode much more smoothly. It's an inexpensive tablet that doubles pretty neatly as a solid work device — though I'd suggest spending at least $100 more to go from 4GB of RAM to 8GB.
The Pixel Slate does the jobs of a tablet so well that Apple should take note. And if you're a Surface Pro acolyte who isn't beholden to Windows, then the Slate is worth a look too. A fascinating yin to. Really seems like they're reviewing two different devices. As to who is right, Cranz uses at least 12 exclamation marks in this review, which I'd wager speaks to her taste. Dieter Bohn, writing at The Verge: Other bugs are just sort of infuriating. When the keyboard is attached, moving windows around feels relatively fast and smooth, even with a few Android apps and well over 20 tabs or web apps open.
But switch the Pixel Slate into tablet mode and start using the swipe gestures, and it turns into a stuttery, laggy mess. Input with the Pixelbook Pen is similarly unpredictable: sometimes it's fine; other times, it lags so badly in Google Keep that I have to quit the app and try again. Chrome OS is an operating system designed for laptops that has enrolled in an adult education class for tablets and hasn't even understood its assignments, much less done the homework. Pretty scathing review.
I had the same impression after just a few minutes playing with a Pixel Slate: decent enough hardware but very unpolished software, especially the Android apps thing. Also, the thing I wrote the other week applies in triplicate to the Pixel Slate — there are way too many CPU options. It's ridiculous. Wednesday, 28 November 2018 From the New York Times's obituary for famed New York City bartender Tommy Rowles: Toward the end of his career, having made thousands of martinis, Mr. Rowles said there was a right way to make one. "My secret is to forget about the vermouth," he told FT Magazine, a weekly supplement of the British newspaper Financial Times.
"I don't know why people put it in. A bottle of vermouth, you should just open it and look at it." The only thing more fun than arguing about how to make a martini is arguing about how to make a martini while enjoying a few. Todd Spangler, reporting for Variety: In a shift in strategy, the Google-owned video platform said that starting next year it will move to make all of its new original programming available for free for anyone to watch.
With the change, YouTube is moving toward more mainstream celebrity-driven and creator-based reality fare, while it will continue to greenlight scripted productions. Until now, YouTube Originals have mainly been available on its YouTube Premium subscription service, although YouTube also has expanded the shows and movies it makes available on an ad-supported basis. Back to Google's wheelhouse: free stuff with ads.
I don't mean that disdainfully, either — it's simply what has made Google so successful. But it's interesting given that the rest of the industry —, maybe Apple — is moving toward putting shows and movies behind new subscription services.
Shara Tibken, writing for CNet: Greg Joswiak, Apple vice president of product marketing, told CNET in an interview Wednesday that the device has "been our most popular iPhone each and every day since the day it became available." I'm sure this will immediately quell all the rumor-mongering and speculation that XR sales are in the tank. Jon Russell, reporting for TechCrunch: Hwang Jeong-hwan took the job as president of LG Mobile Communications last October, and this week LG announced that he will be replaced by Brian Kwon, who is head of LG's hugely profitable home entertainment business, from December 1.
Kwon played a critical role in transforming LG's TV, audio and PC business into category leaders and his knowledge and experience in the global marketplace will be instrumental in continuing LG's mobile operations turnaround," LG wrote in an announcement. Can't remember the last time I saw a phone from LG worth noticing. Tuesday, 27 November 2018 Local note: the Philly premiere of Rams, hosted by director Gary Hustwit (of Helvetica/ Objectified/ Urbanized design trilogy fame) is tomorrow night. I wouldn't miss it. Rams is a documentary portrait of Dieter Rams, one of the most influential designers alive, and a rumination on consumerism, sustainability, and the future of design. Tom Krazit, reporting for GeekWire from Amazon's AWS Re:Invent conference in Las Vegas: After years of waiting for someone to design an ARM server processor that could work at scale on the cloud, Amazon Web Services just went ahead and designed its own.
Vice president of infrastructure Peter DeSantis introduced the AWS Graviton Processor Monday night, adding a third chip option for cloud customers alongside instances that use processors from Intel and AMD., but DeSantis said that it was designed for scale-out workloads that benefit from a lot of servers chipping away at a problem. Makes you wonder what the hell is going on at Intel and AMD — first they missed out on mobile, now they're missing out on the cloud's move to power-efficient ARM chips. Tangentially related:.
90s-era documentary about the life and work of Ricky Jay, with appearances by Ricky Jay, David Mamet, and Steve Martin. Don't let the VHS quality turn you off — I watched this last night and it's so good. Vulture has collected available online,.
Andrew O'Hara, in a piece at AppleInsider under the rather scathing headline "Apple Has Destroyed the Potential of the Smart Connector on the New iPad Pro": Second is the poor adoption we've seen from outside companies, which the shift will not help. Apple that third-parties could make use of the port, and they even with products in the pipeline just last year. Now that the port has completely moved, anything in the works based on the previous port location is dead-on-arrival.
Since the original incarnation, only Logitech has put accessories on the market. They've launched multiple versions of their popular Slim Combo Keyboard as well as a simple charging dock, the Base,. The new Smart Connector placement does seem more limiting, but I think the Smart Connector was a disappointment on the previous iPad Pros in terms of third-party peripherals. Two products from Logitech — a keyboard and a dock — and that's it.
And of course with the new placement, neither will work with the new iPad Pros. It seems a bit weird for Apple to add a port that is primarily used only for one product — Apple's own Smart Keyboard Folio — but that's the way the previous Smart Connector turned out. I'd like to see more third-party keyboard options that use the Smart Connector, but that didn't pan out last time. Monday, 26 November 2018 My thanks to Hankinsoft Development for sponsoring last week at DF to promote SQLPro Studio. SQLPro Studio is the premiere database client for MacOS, and is now available for iOS.
SQLPro supports MySQL, Postgres, and Microsoft SQL Server, and allows you to quickly and easily access tables, views, and other database necessities from the palm of your hand, with an intuitive interface. With must-have features such as full syntax highlighting, autocomplete, support for the iPad's Smart Keyboard, and more, SQLPro is a must-have app for developers. These are great truly native Mac and iOS apps, which have been in development with terrific customer support for years. You can also save 20 percent on any using the promo code " gruber". Open weeks on the DF sponsorship schedule:. Nov 26 (this week).
Daring Fireball: Tweetbot For Mac Free
Dec 10. Dec 17. Dec 24 If you've got a product or service you want to promote to DF's audience,.
Great opportunities in the coming weeks for holiday gift items. Thursday, 15 November 2018 Regarding about why there still aren't any third-party MFI-certified USB-C to Lighting cables, here's a report from (scroll down for their English translation): Apple informed developers who participate in the MFi licensing program that they are planning to approve third-party products of "Apple USB-C to Lightning Cable". Apple plans to move C48 Lightning connector to C89 Lightning connector, C68 Lightning connector to C78 Lightning connector, ​​C12 Lightning connector to C79 Lightning connector, the price will also be about $0.50 higher. In order to manufacture the USB-C to Lightning cable, a new "C94 Lightning connector" is necessary, it explains that it becomes a maximum 15W power supply specification in the case of non-USB-PD and 18W charging is supported in the case of USB-PD compatible. As it is in the stage of USB-C to Lightning Developer Preview, third party USB-C to Lightning cable is expected to be released in mid-2019. A few things to unpack here.
Daring Fireball Tweetbot For Mac Free
"PD" stands for, a protocol for providing power up to 100W by switching to higher voltage. This is an alternative to Qualcomm's Quick Charge standard in use on some Android phones. Standard USB is fixed at 5V and max current of 2.1A. 5V × 2.1A = 10W max. Apple's fastest non-PD USB charger is that came with older iPad Pros.
That one does 5.2V × 2.4A = 12.48W. (You can see the output volts and amps in the small print on all chargers.) With a PD power supply, chargers support multiple output configurations, and the devices negotiate which to use via a handshake. Supported two output configurations :. 14.5V × 2.0A = 29W. 5.2V × 2.4 = 12.48W supports four output configurations :.
20V × 1.5A = 30W. 15V × 2A = 30W.
9V × 3A = 27W. 5V × 3A = 15W The next thing to understand is that requires vendors to source their Lightning connectors from Apple. The old connectors don't support PD, and the new connectors that do aren't yet available to third parties.
Basically, this is why the only option for officially certified USB-C to Lightning cables remains Apple's own 1m and 2m cables. Yes, there are some no-name brand USB-C to Lightning cables available on Amazon right now. Amazon even labels one of them "Amazon's Choice".
But they aren't MFI-certified and I don't think any of them support more than 10W. Personally, I would never trust these uncertified cables. The reviews on Amazon are full of complaints that they fail after a few weeks, and honestly I wouldn't trust them in terms of safety. I get wanting to charge Lightning devices from USB-C chargers and MacBooks, but if you don't want to buy Apple's own cables (which admittedly are expensive) you might as well just use an old USB-A to Lightning cable and a USB-C to USB-A adapter, because you're still limited to the non-PD charging limits. The no-name brand USB-C to Lightning cables available today do not support PD, are not certified, and are limited to 12 watts. There's a reason they only come from no-name brands. It's small consolation to those of us looking for high-quality third-party USB-C to Lightning cables and adapters today, but it does sound like they'll start appearing in the second quarter of 2019.
The iPhone and USB-C This brings me to a second point, which feels at least tangentially related to this whole USB-C to Lightning situation. Now that the iPad Pros have switched to USB-C, there are a lot of people — possibly most of you reading this — who think/hope Apple is going to switch the iPhone from Lightning to USB-C next year. I don't think that's going to happen, ever. I could be wrong — there are definitely some compelling reasons why they might.
But I don't think they will for a few reasons. First, Apple likes having complete control over the iPhone peripheral market. Consider iPhone cases that include a built-in battery pack. There aren't many of them. Apple only recently approved. Battery packs are difficult — they block inductive charging and they can interfere with the phone's antennas. That's why had such a seemingly weird hump-on-the-back design: that design kept the battery from interfering with the antennas.
It's in Apple's interest to certify that third-battery cases don't interfere with antenna reception, because if they did interfere, people would naturally blame the iPhone for the poor reception, not the case. But Apple wields its MFI control in other ways too. In a Twitter thread Wednesday, there has never been an MFI-certified battery case with a headphone jack. This almost certainly is not because no one thought to make one, but rather that Apple will not approve them. Apple clearly thinks external battery packs (connected to iPhones via a cable) are a better solution than cases with integrated batteries. With Lightning, they can effectively control this. If the iPhone were to switch to USB-C, I don't think they could stop anyone from making USB-C battery cases.
I do not think Apple will cede this control. Second, the nerd world may clamor for one universal connector that charges everything from iPhones to iPads to MacBooks, but the normal world just wants their existing cables to keep working when they buy a new iPhone. Lightning is obviously better than the old 30-pin adapter — the old 30-pin connectors look ridiculous in hindsight. But people upgrading from older iPhones were outraged when Apple introduced Lightning with the iPhone 5 in 2012. They saw it as a money grab — a new port introduced so everyone would have to buy new cables.
The fact that you wouldn't have to buy USB-C cables from Apple wouldn't change that perception if future iPhones switch to USB-C — nerds might rejoice but regular folks will object. For however many iPhone users there are who are upset that iPhones continue to use the proprietary Lightning port when they could, technically, use USB-C instead, I would bet big money there are way more who just want Apple to keep using Lightning because they already have Lightning cables everywhere they need them. It's also almost certainly true that there are way more iPhone owners who do not own either an iPad or MacBook than there are iPhone users who also own an iPad or MacBook. These iPhone owners don't care that the new iPad Pro and recent MacBooks have switched to USB-C. And even those iPhone owners who do own an iPad or MacBook are very unlikely to own the brand-new $800-and-up iPad Pro, and their MacBooks are most likely models with MagSafe. Third (and admittedly a distant third at that), Lightning connectors and ports are smaller.
Sure, at 5.9mm thick, the new iPad Pros are the thinnest iOS devices ever, and they use USB-C. But still, it's easier to make a thinner device with a smaller connector. I also think Lightning connectors are more pleasant to use. They're easier to plug in and easier to pull out. Lightning is a simple, elegant male/female design.
USB-C, like all previous USB versions, is a weird male connector with female slot / female port with a tiny little male connector inside. USB-C certainly has some technical advantages over Lightning, but iPhones don't need those features. The elegance (and I suspect durability) of Lightning probably matters more to Apple. So:.
Apple would prefer to maintain MFI control over all iPhone peripherals. Most iPhone users would be displeased, at least in the short-term, by a switch to USB-C. Lightning is smaller and more elegant than USB-C and Apple prefers smaller and more elegant. I think iPhones will stick with Lightning until wireless charging is fast enough that Apple can remove all ports, Apple Watch-style.
In fact, I don't think regular (non-Pro) iPads will switch to USB-C either. Apple is pitching the iPad Pros' switch to USB-C based on actual professional features — driving external 5K displays, using PC-class peripherals, and support for very high-power charging.
The only one of those that might apply to regular iPads is faster charging, which is always nice to have, but even that wouldn't matter much to most iPad users, who (a) stick with whatever charger Apple supplies in the box, and (b) choose extra chargers based on price, not output wattage. (Spec-knowledgeable nerds have trouble believing this, but many iPhone users love the wimpy 5W charger Apple includes with iPhones because it's so small.) Lightning Gadgets When I think of Lightning-powered devices I tend to think of iPhones and iPads. But over the last few years, Apple has put Lightning ports into a bunch of battery-powered gadgets:.
AirPods charging case. Magic Keyboard, Trackpad, and Mouse. Apple TV Siri remote. Apple Pencil 1 Most of those aren't related to iPhones at all — the iPhone could switch to USB-C and it wouldn't really matter if these gadgets stayed on Lightning. Except for one: the AirPods charging case.
That's the one that is intimately tied to iPhone use in daily life. You really want to be able to charge your AirPods case with the connector you're most likely to have handy, and that's your phone charger. There were rumors that Apple might ship next-generation AirPods this year. (There still are rumors they might ship this year, in fact,.) That would have been an interesting hint regarding the future of the iPhone's charging port. I really don't think Apple would launch a second generation of AirPods now, and sell them all through next year, only to change the iPhone's charging port to USB-C in September.
One supply chain leaker with a supposedly good track record, and, for what that's worth (not much, in my opinion), the cases shown still have Lightning ports. If Apple had announced second-generation AirPods this year, and the new cases still had Lightning ports, I'd take that as a strong sign that next year's iPhones will too. And if they had shipped without Lightning ports (using inductive charging instead, perhaps, like Apple Pencil 2), I'd be a little less willing to bet that next year's new iPhones will stick with Lightning. But Apple has not announced new AirPods (or even just new AirPod cases), nor recent updates to any of its Lightning-powered gadgets other than Pencil, so we don't have any clues to glean on this front. MFI licensees sign non-disclosure agreements with Apple. So, they tend not to talk.
But one little birdie I spoke with recently said that last year, for months, there simply were no Lightning connectors available to third parties, because Apple was consuming the entire supply because they were including three with each iPhone 8 and iPhone X — one for the cable, one for the headphones, and one for the headphone adapter. These supply constraints make me wonder if that's why this year's new iPhones still ship only with USB-A Lightning cables and chargers — Apple may not have felt confident in the supply of the new Lightning connectors that work with USB-C PD charging speeds. If they had included a USB-C to Lighting cable with every iPhone XS and XR, they'd have needed at least 50 million new Lightning connectors this quarter, and they apparently don't even have enough to sell them to MFI licensees until some time next year. Remember the iPod Touch? Apple, but they're so long in the tooth they still use iPhone 6-class A8 chips.
I think the plethora of old hand-me-down iPhones has really put a crimp the market for iPod Touches. I can't even remember the last time I heard someone say "iTouch". Thursday, 15 November 2018 Chris Smith, BGR: A few weeks ago, Apple insider Ming-Chi Kuo said that the AirPods 2 would launch either. Now we have a Samsung insider making a similar claim.
"Ice Universe", who's a constant source of rumors, mostly related to Samsung mobile devices, said on Twitter that "". Anything is possible, but I'd find it a bit strange if Apple released new AirPods this year.
If they were going to be ready for the holidays, why wouldn't they have announced them at the event in Brooklyn two weeks ago? Why would they release listing the current AirPods as the second item on the list? People are already buying holiday gifts, and gift-buying reaches its manic peak next week with Black Friday.
People who are buying $160 AirPods now — on Apple's own recommendation — would be justifiably angry if AirPods 2 come out before the holidays. And what about inductive charging?
Last year Apple promised a new charging case for AirPods that would work with the still-missing-don't-talk-about-it AirPower charging mat. I don't think they were going to use the Qi standard for that, but instead something proprietary like Apple Watch uses. If they still plan on supporting this, would they launch new AirPods now even while AirPower is totally missing? How do you launch AirPods with inductive charging without a way to inductively charge them?
And if they still plan on shipping AirPower in the even vaguely near future, would they ship new AirPods without support for it? 600+ likes and counting on this tweet that popped into my head this morning: I wish you could delete apps right from the App Store Updates tab. When I see an update is pending for an app I never use, I just want to delete it right there. Also, it would be great to be able to delete apps from Spotlight search results (or even just reveal them). Wednesday, 14 November 2018 It's one thing to hear that there are a lot of magnets in the new iPad Pros. It's another to see them.
Satirist Andy Borowitz: Calling for an "immediate end" to the recount in Florida, Donald J. Trump warned on Monday that it could set a dangerous precedent of the person with the most votes winning. Speaking to reporters at the White House, Trump said that those in favor of the recount had a "sick obsession with finding out which candidate got the most votes." "Democrats are going on and on about counting every last vote until they find out who got the most," Trump said. "Since when does getting the most votes mean you win?" Under Trump, the line between satire and news is ever more blurred. The above is a more fair, more accurate description of Trump's reaction to these close elections than anything in the supposedly straight news.
Tuesday, 13 November 2018 Here's a thread on Reddit asking why there aren't any USB-C to Lightning cables from reliable, certified companies like Anker, Monoprice, and Amazon. It's a year-old thread and the situation is unchanged. This stinks now that all MacBooks and the new iPad Pros have gone to USB-C, along with chargers that output by USB-C.
I have, for example. It's a terrific product — nice size, great build quality, and just $26. ( is $50.) Another great charger is Apple's new 18-watt charger that's included with the new iPad Pros (but which, oddly, is not yet available for purchase separately). These chargers all use USB-C for output.
So if you want to use them to charge a Lightning device — like, say, your iPhone — you need a USB-C to Lightning cable, and your only certified options are Apple's and cables. Apple's cables aren't bad, but (a) they cost $19 and $35, respectively; and (b) the 1-meter cable is awfully long to be the shortest cable for this. I like having 6-inch cables for traveling, for plugging my phone into my MacBook to charge overnight. For use with the then-new 12-inch MacBook. They still haven't shipped. What's the deal here?
Is there a technical issue? Or is Apple just spitefully keeping this market to itself? It really seems like a raw deal when you consider that Apple still doesn't include a USB-C to Lightning cable with new iPhones. Monday, 12 November 2018 Great little graphic essay Stan Lee wrote for The Atlantic in 2007.
Tuesday, 6 November 2018 Amidst last week's event and diving into testing the new and, I didn't find time to comment on Apple's quarterly results. Let's catch up., which includes links to their data summary. Long story short, compared to the same quarter last year:. iPad unit sales and revenue were down a bit. Mac unit sales were down just under 2 percent but revenue was up over 3 percent — so mostly flat.
iPhone unit sales were flat but revenue was up a whopping 29 percent. The iPhone X (and now XS) is a hit. Services and "Other Products" were up too, 17 and 31 percent, respectively. I take this to mean AirPods and Apple Watch are growing like crazy.
Anecdotal observation everywhere I go backs this up. Jason Snell, as usual,. I'll reproduce just one, the first: I look at this and I think one thing: Fuck yeah, Macintosh. For all the fretting for the future of the Mac — the widely held notion that Apple wants everyone to move from the Mac to iPad, that these totally shitty Marzipan apps in Mojave are the future, that the Mac is "legacy" — here is some cold, hard, financial proof that the Mac is doing as well as ever. Not only was the Mac far ahead of the iPad in terms of revenue, it's downright amazing that it amounted to one-fifth the revenue from the iPhone.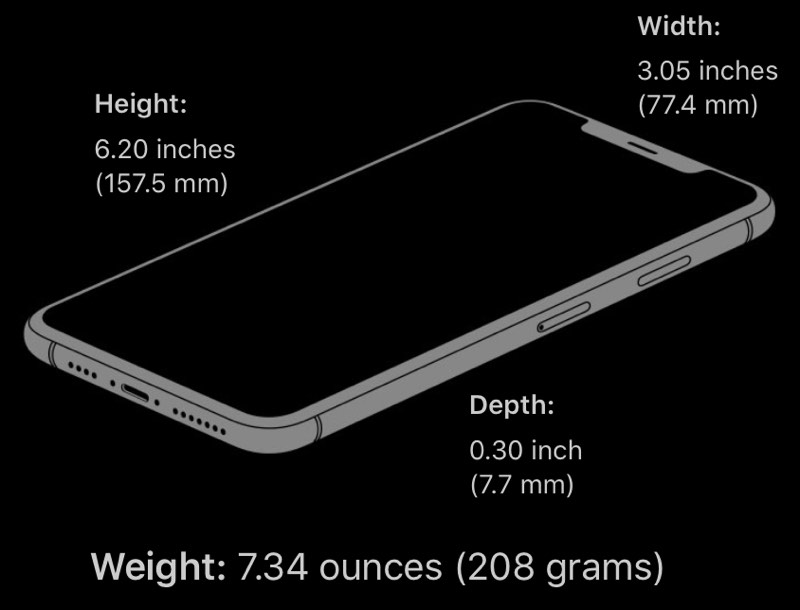 No More Unit Sale Numbers for iPhone, Mac, and iPad The biggest surprise was CFO Luca Maestri's announcement that Apple would no longer be announcing unit sales for iPhone, Mac, and iPad: Third, starting with the December quarter we will no longer be providing unit sales data for iPhone, iPad, and Mac. As we have stated many times, our objective is to make great products and services that enrich people's lives, and to provide an unparalleled customer experience so that our users are highly satisfied, loyal, and engaged. As we accomplish these objectives, strong financial results follow. As demonstrated by our financial performance in recent years, the number of units sold in any 90-day period is not necessarily representative of the underlying strength of our business.
Furthermore, a unit of sale is less relevant for us today than it was in the past, given the breadth of our portfolio, and the wider sales price dispersion within any given product line. This stinks as an observer of the company, but I don't find it at all surprising. None of Apple's competitors release unit sale numbers for phones, tablets, or PCs. I think it's more surprising that it took Apple so long to make this change. Secretive company decides to be more secretive — news at 11.
After Tim Cook announced at the outset that they were never going to reveal Apple Watch unit sale numbers, and it played out just fine, I began wondering if Apple would switch to that policy for all of their products. There's nothing special about Apple Watch in that regard. I wish it weren't so, but I don't blame Apple for making this change.
I also don't think it has anything to do with Apple expecting bad unit sale numbers in the near future. Apple doesn't make policy changes like this with the near term in mind. This change will affect what they announce in all quarters, for years to come, whether unit sales are good, bad, or middling. Apple is a long-term company, not a short-term one.: HomePod was an abject failure, and the AirPower wireless charging pad is missing in action. But Apple Watch Series 4 is getting rave reviews, and the sleeper hit, the AirPods, will likely do well when that product gets updated. A refresh of its Mac lineup is nice, but it's destined to remain a niche product in a market where people are less interested in buying computers.
HomePod may well be a disappointment, but "abject failure" seems a bit harsh. A few weeks ago Strategy Analytics pegged HomePod's share of the U.S. "smart speaker" market. That sounds terrible. But they also pegged HomePod's share of the $200-plus smart speaker market.
At $350, HomePod is nearly double $200. Maybe Apple ought to make a $100 HomePod Mini or something, but given what HomePod is and what it costs, it seems like a typical Apple product: dominating the high end of the market, overall market share be damned.
And to revisit a sentiment from above, I don't get Culpan's argument that the Mac constitutes a "niche". $7.4 billion in revenue — in a quarter during which the most popular Macs were all overdue for updates — is one hell of a niche.
Also, not to keep picking nits with one paragraph, but AirPods are "doing well" right now, without an update. Given that Apple had nothing to say about AirPods last week, it seems pretty clear that AirPods aren't getting an update this year. I still expect them to sell in record numbers as holiday gifts.